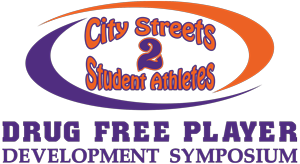 We normally have our Player Development Symposiums at the beginning of the school year. It's our way of re-calibrating the student athletes and preparing them for the upcoming school year.  The Player Development Symposiums are design to empower the student athlete and their families. We also discuss the many pitfalls of being a student athlete as it pertains to the recruiting process.
An assortment of guest speakers is utilized to deliver powerful messages that motivate and encourage the student athlete to live a healthy lifestyle in their quest to fulfill their dreams. This is the one chance that parents can get their questions answered. The topics are normally as follows:
Founder/President
City Streets to Student Athletes, Inc.
In 2009, Rodney Blunt founded City Streets to Student Athletes, Inc. (CS2SA).  As a former student athlete at Clemson University and with over 18 years of law enforcement experience, Blunt is loaded with explosive material that will captivate his audience. Blunt has mastered the art of educating student athletes on the dangers of recreational and performance enhancement drugs with a meticulous analysis of CS2SA's Drug-Free Pledge. His energetic speaking style leaves the audience motivated and feeling empowered.
CS2SA was established to deter athletic students from drugs and crime in the city streets and develop them into productive student-athletes. CS2SA emphasizes the importance of a proper balance between their scholastic and athletic endeavors. CS2SA provides student-athletes with programs that will enhance their skills and knowledge on- and off-the-field. The program is also credited for launching a Drug-Free Pledge movement that's reaching student athletes all around the country.
President and CEO
The Joseph Washington Group Inc.
As a youth growing up in San Diego, California, Joseph struggled with severe stuttering. The relentless teasing and tormenting from his peers pushed him to work tirelessly to overcome the condition.  By the age of 15, he noticed a significant improvement in his speech. So much in fact, that he began to feel comfortable speaking to groups of people. Joseph B. Washington has become one of the most sought after speaker and motivator for workshops, retreats, seminars or other presentations where strong impact is a must!  Joseph's unique, passionate delivery mixed with solid content and practical principles allow audiences to see life as they have never seen it before.
Joseph has authored a best-selling book entitled Breaking the Spirit of Average the 7 Keys to Turn your Average into Awesome. Joseph shares his set of proven principles with compelling anecdotes, adages and examples that reveal what happens when average people decide to once and for all "Let Average Go"!.
Joseph B. Washington is a dynamic and passionate speaker, with thorough research and planning each presentation is customized to meet the unique needs of each client. He is the CEO of Average Breaker LLC, "Let Average Go" Apparel, "Average Breaker Cool Kids" and (R.E.P.) Sports Academy, whose motto is "R-espect E-very P-lay"!
Joseph B. Washington resides in, Atlanta Georgia and lives his life by the following words…. "The man who said it could not be done, should stop bothering the man who is already doing it"!
CEO and President
Almon Gunter Motivates, Inc.
Almon Gunter is the CEO and President of Almon Gunter Motivates, Inc.  He is a highly acclaimed motivational, inspirational public speaker, author, and consultant, as well as a former world-class sprinter in track.
Almon is the author of three books:  Focus on the Final Seconds and Win the Game of Life, is a how-to book on achieving both mental and physical fitness success in life, Focus To Win which analyzes personal traits needed to build a strong foundation for success and The Essence of Teamwork a book outlining the 8 principles of a winning team.
As a world-class sprinter in track Almon competed internationally in over 15 countries.  At the height of his running career Almon ran the 13th fastest time in the world for 200 meters.  He uses these experiences and success on the track to help others reach their maximum velocity performance in the game of life.
Transformational Life Coach/Expert Speaker
Your 2nd Half
Grayson Marshall, Jr., a Washington, D.C. native, is a kingdom minded servant, inspirational leader, gifted keynote speaker and entrepreneur. He has traveled around the globe and inspired tens of thousands of people to live their lives to the fullest. Grayson is an accomplished athlete and coach. He was a five-time high school basketball Coach of the Year; was inducted into the St. John's College High School Hall of Fame; and was inducted into the Clemson University Sports Hall of Fame. Clemson University recently named him an ACC Basketball Legend.
Grayson still holds every assist record in the university's history. He prides himself on the success of others and believes in teamwork. He is the author of two books, "The Game Matters" and "Dad's Unfinished Business," which shares his extraordinary journey from homelessness to being one of the most sought after entrepreneurial speakers in the wellness, finance and sports industries. He is currently working on two more inspirational and educational books.
Grayson has the unique talent of helping people find ways to change their lives, mentally, spiritually and physically, for the better. As "Professor Positive," as he is called, he has the tools to help people change their outlook and identify their passion. Grayson's energy and enthusiasm are contagious. His desire to help others succeed propels his every action.
Senior Associate Athletic Director
University of North Florida
Ervin Lewis is the Senior Associate Athletic Director at the University of North (UNF).  Lewis oversees the budgets and daily operations for all men's sports at UNF, organizes and manages the usage for all athletic facilities and coordinates all game management staff for the department's 18 intercollegiate sports. He also supervises the athletic grounds staff and serves as the administrator for the athletic strength and conditioning unit. In addition, Lewis serves as the department liaison to several campus, conference and national athletic committees.
Lewis joined the Ospreys' staff after spending two years as the director of football operations for the University of Alabama at Birmingham (UAB).  During his time at UAB, Lewis coordinated a wide range of functions primarily focused on getting the most out of the student-athletes and the athletics program. He coordinated all game day recruiting events and recruiting visits. He assisted the coaches with all recruiting efforts, traveling plans, and camps or clinics that UAB put on, while also serving as the compliance liaison for the staff.  Lewis collected a variety of experiences during his time at UAB, facilitating the Character Education Program for all freshman and sophomore football players as well as teaching a three hour undergraduate education course "The College Athlete."  Before joining the Blazers staff in 2007, Lewis worked at the University of Georgia as an athletic academic advisor in 2003, assisting student-athletes academic efforts.
President and CEO
The Drayton Florence Foundation
Drayton Florence is a former defensive back in the National Football League (NFL) where he played sports professionally for 11 years. The University of North Florida graduate has a Bachelor's Degree in Sport Management. Florence was drafted in 2003, as the 46th pick overall, into the NFL from Tuskegee University.  Drayton is the highest drafted player from Tuskegee University and has been deemed the honor of being inducted into the Tuskegee University Sports Hall of Fame. With 11 years of playing experience and over 100 NFL career starts, the skills and expertise he has amassed is unprecedented.
Drayton started his own non-profit organization after his rookie season. The Drayton Florence Foundation has raised over $300,000 for various programs and events for communities locally and internationally. Shortly after retiring from the NFL, Florence formed the Selective Management Group (S.M.G.) to represent and educate professional athletes and entertainers in set industries. Player Management and Development is the area of focus between the managing partners and employees of S.M.G. Vetsuccess101 is another business Florence started with the prime objective to assist military personnel in their transition from active duty to civilian life. At Vetsuccess101, Florence's team provides training seminars, resources, employer/employee education and assists with procuring special veteran compensation.
President and CEO
KENKAI Corporation
Kenneth brings 25 years of sales leadership experience having lead sales organizations throughout the United States. He started his sales career with Lanier Worldwide, Inc. in New York City after graduating from New Jersey City University in 1993. After his 1st year, he was the Top Rookie in NYC and won President's Club. Kenneth was promoted into management in 1995 as Sales Manager in White Plains, NY where his entire sales team won President Club, the pinnacle of sales achievements. He went on to hold various leadership roles within the technology industry including most recently Area Vice President for Konica Minolta Business Solutions USA, Inc. He has successfully recruited, developed and motivated sales teams to meet and exceed business objectives. Kenneth also founded a consulting firm, KENKAI Corporation in 2000. Today KENKAI Corporation operates as a pure sales organization independently representing multiple lines of products from raw materials to technology.
Kenneth has come to serve, teach, coach, mentor and motivate us to bring out the desires of our hearts. He wants to help guide you towards your purpose and assist you in reaching your goals. In his book, "The Physics of Life" he encourages us to recognize the negative but focus on the positive.